Israel, Alone Again?
Jerusalem, February 1, 2011 — ISRAELIS want to rejoice over the outbreak of protests in Egypt's city squares. They want to believe that this is the Arab world's 1989 moment. Perhaps, they say, the poisonous reflex of blaming the Jewish state for the Middle East's ills will be replaced by an honest self-assessment.
But few Israelis really believe in that hopeful outcome. Instead, the grim assumption is that it is just a matter of time before the only real opposition group in Egypt, the Islamist Muslim Brotherhood, takes power. Israelis fear that Egypt will go the way of Iran or Turkey, with Islamists gaining control through violence or gradual co-optation.
Either result would be the end of Israel's most important relationship in the Arab world. The Muslim Brotherhood has long stated its opposition to peace with Israel and has pledged to revoke the 1979 Egyptian-Israeli peace treaty if it comes into power. Given the strengthening of Hezbollah in Lebanon, Hamas's control of Gaza and the unraveling of the Turkish-Israeli alliance, an Islamist Egypt could produce the ultimate Israeli nightmare: living in a country surrounded by Iran's allies or proxies. (read more)
---
G.O.P. and Tea Party Are Mixed Blessing for Israel
WASHINGTON, November 25, 2010 — When Prime Minister Benjamin Netanyahu of Israel came to the United States recently for another round of tense talks with the Obama administration, he got a decidedly warmer welcome from one of the rising Republican stars on Capitol Hill, Representative Eric Cantor, the incoming majority leader of the House.

But while Mr. Cantor and other newly empowered Republicans are eager to promote themselves as Israel's staunchest defenders in Washington, the reconfigured American political landscape is a more complex and unpredictable backdrop for Middle East peacemaking.

Scores of Tea Party-backed candidates are entering Congress, many of whom favor isolationist policies and are determined to cut American foreign aid, regardless of its destination. (read more)
---
Letter from Jerusalem: Toward a Two-Leader Solution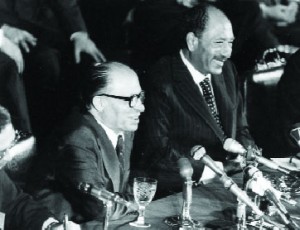 Netanyahu (left) and Obama.
Photo by Mark Wilson/UPI/Landov
Perceptions drive politics—and so do misperceptions. A good case study, one loaded with irony, is Vice President Joseph Biden's speech at Tel Aviv University last March.

Biden stressed continued American military aid and diplomatic backing for Israel. First, though, he told a homey story about his first visit to Israel as a senator, when he met then-Prime Minister Golda Meir, "who I admired from afar as millions of Americans did." His portrayal of Meir fit the standard perception of her among Americans, especially a key Democratic constituency, American Jews: Meir was a mix of superwoman and Yiddishe mama. By presenting that picture, Biden was assuring an audience back in America of the current administration's emotional tie to Israel.

Yet Biden's hosts in the university hall surely squirmed in their seats. Among Israelis, especially educated Israelis, Golda Meir's rating as a national leader is equivalent to that of Herbert Hoover or James Buchanan among Americans. Politically indecisive and militarily overconfident, she failed to foresee, prevent or prepare for the Egyptian-Syrian surprise attack of Yom Kippur 1973. That misreading of the strategic balance cost over 2,600 Israeli lives. Public outrage forced her into retirement. (read more)
---
For Once, Hope in the Middle East
washington (nyt) — NOW that President Obama has finally succeeded in bringing the Israelis and the Palestinians back to the negotiating table, the commentariat is already dismissing his chances of reaching a peace agreement. But there are four factors that distinguish the direct talks that will get under way on Sept. 2 in Washington from previous attempts — factors that offer some reason for optimism.

First, violence is down considerably in the region. Throughout the 1990s, Israel was plagued by terrorist attacks, which undermined its leaders' ability to justify tangible concessions. Israelis came to believe that the Palestinian leader Yasir Arafat was playing a double game, professing peace in the negotiations while allowing terrorists to operate in territory he was supposed to control. (read more)
---
Jewish Agency makes it official: New focus is on identity building
new york (jta) — As expected, the board of governors of the Jewish Agency for Israel approved a plan to overhaul the agency's focus.

The new strategic vision, which is outlined in an 11-page document, calls for turning the agency's attention more squarely toward building global Jewish identity, and away from its traditional mission of bringing in and settling new immigrants to Israel.

The plan, according to a statement released by the agency last week, passed 119-1 in a June 25 vote at the board's meetings in Jerusalem.

"The main danger facing the Jewish world today is a weakening of the connection of young Jews to their people and to the State of Israel," said the agency's chairman, Natan Sharansky, who led the new strategic planning process along with the organization's top lay leader, Richard Pearlstone. "Our new plan deals directly with this issue."... (read more)
---
First look: The Jewish Agency's new strategic vision—the actual plan
Much has been made in recent months about the Jewish Agency for Israel's desire to reshape itself, moving away from its historical mission of building the State of Israel and moving more towards one bent on building the Jewish people with Israel as its focus.

The plan has been pushed by Natan Sharansky ever since he was appointed chairman of the agency last year. He has reshaped the agency's top professional staff and is moving the organization's key operations – such as global fund raising and marketing to New York from Jerusalem – and he has decided to essentially scrap much of the organization's fund raising strategy of the past.... (read more)